Cheap hotels by the sea in Spain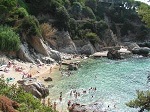 Spain, a country affected by the economic crisis, but also a country that looks a lot of holidaymakers from across Europe. Let's see how good prices offered by local hotels. We were looking for cheap hotels in popular Spanish resorts such as Lloret de Mar, Benidorm, Malaga and Alicante.
If you are looking for current offer cheap accommodation not only in the areas described below, try our search of cheap accommodation.
Cheap hotels in Lloret de Mar - Costa Brava
Perfect for a family break on the Costa Brava, these spacious apartments can accommodate up to 8 people just a 500-metre walk from the beaches of Lloret de Mar. In the evening, head into the resort centre to enjoy the choice of restaurants and lively nightlife. You will find the centre of Lloret just a kilometre away.
These apartments are situated in a quiet, residential area of Lloret, just 1 km from the beach. They have 2 swimming pools and an on-site scuba diving school. The Els Llorers apartments are practical and spacious. They all have balcony and TV. The kitchens all have hob, kettle and microwave. Many of the apartments have attractive views of the countryside. The apartments are just a 10-minute walk from the town centre with its shops and restaurants. There is a small supermarket just 50 metres away. There is also a bus stop nearby. Free public parking can be found not far away.
Aparthotel Costa Encantada can be found in a beautiful location between the sea and mountains in the residential area of Fenals. It offers a large outdoor pool and sun terrace. Rooms and apartments come with a balcony and satellite TV. They are equipped with a private bathroom. The buffet restaurant serves international dishes and light refreshments are available from the snack bar. There is also a pizzeria and disco-bar. Tossa de Mar is situated just 15 minutes' drive from the complex. Girona is 35 minutes away.
Accommodation in Benidorm
Apartamentos Michel Angelo are just a short walk from Levante Beach, in Benidorm's old town. The spacious apartments have a shared outdoor swimming pool, sun terrace and garden. Each Michel Angelo apartment has a balcony, with views of the sea, the town or the nearby park. The apartments are set in a quiet area of Benidorm, next to Aigüera Park. The beach is only 500 metres away. There are shops and restaurants in the streets near the apartments.
Cheap hotels in Malaga
Holiday Inn Express Málaga is the closest hotel to Málaga Pablo Ruiz Picasso Airport. It offers free parking and modern rooms with satellite TV and free tea and coffee facilities. This functional hotel is located a 5-minute drive from the beaches of the Costa del Sol. Málaga city centre, home to the Picasso Museum, is a 15-minute drive or a 10-minute train journey away. Málaga Convention Centre is just 4 km away. Continental breakfast is included in rates at Holiday Inn Express Málaga.
Hotels in Alicante
This modern hotel is set just a 10-minute drive from Alicante's city centre, near the IFA Exhibition Centre and the Ciudad de la Luz film studios. Designed especially for business travellers, rooms enjoy internet access (high-speed or Wi-Fi) and views of the Mediterranean Sea, and there are meeting rooms available for hire.
Husa Alicante Golf
Avenida de las Naciones, s/n, Alicante
€ 24 - 43
- per 1 person/day
(approximate price)
More
Husa Alicante Golf is a spa hotel set in beautiful gardens, with an 18-hole golf course designed by Seve Ballesteros. Rooms have a private terrace and free Wi-Fi access.

The Husa Alicante has an outdoor swimming pool, a tennis court and a children's play area. The spa features a fitness centre, indoor pool, sauna and massage service. The hotel is 800 metres from Playa de San Juan Beach and close to a large shopping area. Alicante city centre is a 20-minute walk away and Altet Airport is a short drive from the hotel.
Current hotels offer you find on this page.
Vložil/a: Daniel Česák 10.04.2011
Článek je zařazen v těchto kategoriích: Abyste mohli články z těchto kategorií odebírat, musíte být přihlášen/a.